The following article includes tips and tricks for making an Electronic Press Kit for your music. If you'd like help with building an EPK, contact us today!
Your music website is bound to attract a wide variety of visitors. Your fans might visit your website for news, live streams, or to buy your new music. While fan engagement is great, your website will (hopefully) also be visited by people who want to book or write about you. You can (and should) also use your website to distribute promotional material about your career and your music in order to land more gigs and attract more press. Making an EPK for Music is a surefire way to ensure that booking agents, music supervisors, and music bloggers are able to find what they're looking for. Read on to learn more about what an EPK for musicians is and what you should include.
What is an EPK in music?
An EPK, or electronic press kit, is a digital promotional package that musicians send to venues, booking agents, or talent buyers. Think of an EPK as a sort of online resume that sums up your career as a musician. Artists can use their EPK to help with booking shows, share their material with music journalists, or to generate buzz around an upcoming album release. Essentially, an EPK will tell people what to expect from you as a musician or band.
Where can I make an EPK for music?
When you or your band create an EPK, you'll want something easy to send to radio stations, venue bookers, or industry journalists. The best place to make and host your EPK is on your own website. This is because a website is easily shareable, and enables you to add additional pages to keep interested parties engaged.
If you don't have a website set up yet (get that done, ASAP!) a great place to make and host an EPK for the short-term is Behance. Behance is an offering from Adobe and is a great place to highlight your best work.
What should be in an EPK for music?
An effective EPK for music should include everything the press would need if they wanted to highlight you as an artist. This includes things like an official bio, promotional phots, your music, and any awards or press coverage you've received.
Remember that when you're making an EPK for music, you're showcasing your musical career, and telling your story. This should be your foremost thought surrounding every element that you include, especially your imagery and song inclusions.
Now that you know the basics of making an EPK for music and what it's used for, here are 8 things to be sure you include in yours!
1. Your musician bio
The first element to include in any artist or band EPK is the bio. This is a great way to introduce yourself to a promoter or booking agent. Be sure to include a few sentences that sum up who you are as an artist (or band), being sure to talk about your genre and any recent accomplishments. Remember that this is essentially an elevator pitch, or a podcast introduction if talking to strangers on an elevator isn't your thing.
Keep in mind that festivals, booking agents, and journalists all have differing needs regarding the amount of information you provide. A good rule of thumb is to include your 1-2 sentence elevator pitch, and a short to medium (1-2 paragraphs) bio. If you've got enough for a longer form bio (4 paragraphs or more), it's often best to include that as a downloadable file, or as a link to its own dedicated landing page.
2. Promo photos
Include a section in your EPK with professional and downloadable photos. It's best to hire a professional photographer for this so your images are sized correctly, and also do your brand the justice it deserves. Also, a photographer will ensure your photos can be easily used in print or online. Your pictures should reinforce the image presented in your bio, so be thoughtful what you choose to include.
Offer a variety of photos in your EPK! Posed photos work well along with a couple of live shots to give a general idea of what your shows are like. If you're promoting a new album, then include the new album artwork as well. Be sure to include enough space around the subject of the photo (you), in case whoever is using these photos needs to crop them to fit their poster, show bill, etc.
3. Music
Don't forget that the biggest part of your musical identity is your music! Select some of your most popular tracks that you feel best represent you or your band. Sometimes, adding a bit of text describing your music can be massively helpful here. That way, anybody who wants to describe your sound already has a reference point. Depending on the main goal of your EPK, this is also a great place to include your discography.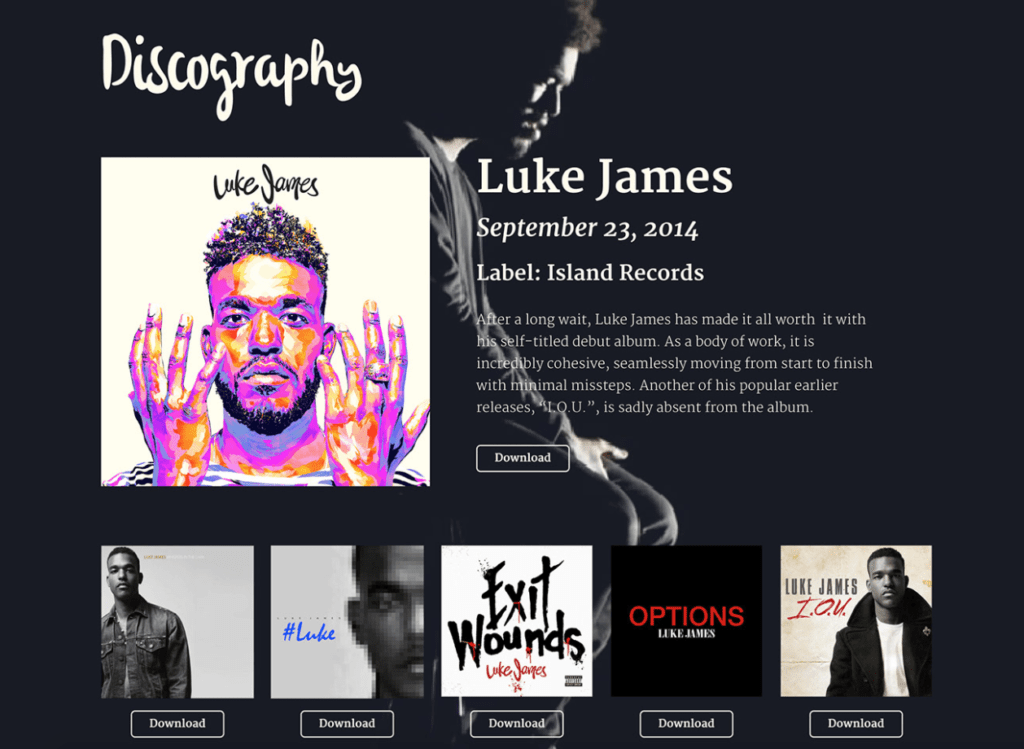 4. Video
Music bloggers often embed videos of the artists they're covering to help make their article more engaging. Embed a few of your best videos in your EPK, and be sure to rotate these out regularly to ensure you're always putting your best foot forward. If you have any information to make the video more compelling, include that as text either above or below it. And of course, try to use your highest quality videos.
5. Press and reviews
One of the main purposes of making an EPK for music is to help the media develop stories about your work. You can help drive your narrative in a positive direction by including any press you've received. Reviews are also great at adding a sense of authenticity and reinforcing the fact that yes, your music is worth listening to.
Keep any included press or reviews short and sweet. The point of an EPK is to convey a sense of who you are, so pull the best quote from each article and include a link to the rest of the story. Including much more than that risks overwhelming the reader with content.
6. Highlights and achievements.
Including a few examples of your musical achievements, or awards you've won helps give positive context to your EPK. This is a great place to mention any streaming success, touring support for big acts, or festival performances.
The idea behind including your highlights and essentially bragging about yourself is to grow buzz around your music and brand. So don't be shy! Bragging about yourself can be hard, but you can do hard things.
7. Social media links
Every good EPK for music should include links to your social media. Your EPK and website should be the main hub for everything regarding you and your music, but it's important that you make it easy for visitors to connect with you on social media.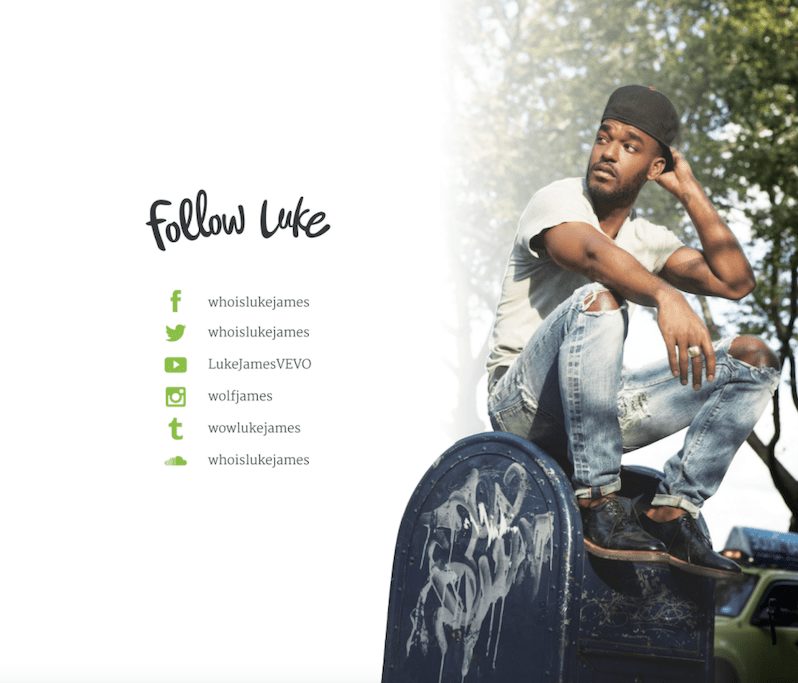 8. Contact Information
No EPK would be complete without detailed contact information. A contact form is a great way to enable interested parties to contact you. Alternatively, you can simply list your preferred methods of contact. Just make sure it's easy to locate.
Hire us to build your EPK
If you'd like help with building an EPK, contact us today!